Strolzen
More than a shopping experience
"I'm going Strolzen today" - anyone visiting Lech for the first time may be surprised when they first hear this phrase. For our regular clients, however, the word "Strolzen" already has a fixed place in their vocabulary. Find out more about the meaning of "Strolzen" here.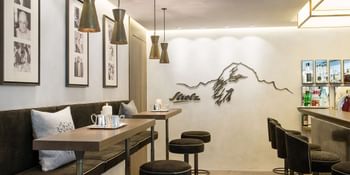 The Strolz Service
This is what you experience at Strolz
Purchase on delivery note
Our regular clients can try on their purchases in the comfort of their hotel or at home - and pay later.
Tax Free
We offer all of our EU clients our standard tax-free service in all our branches.
Hotel delivery service
For all those who appreciate simplicity, we offer same-day delivery of their purchases directly to their accommodation in either Lech or Zürs.
Shipping
Your new purchases no longer fit in your luggage. No problem, we will gladly send your items home.
Café Treff
Get together at Sporthaus Strolz
We serve drinks and snacks at the Strolz Bar on the second floor.
Tailoring
The extra touch
Our in-house tailor's shop offers alteration and repair services for ski, fashion and traditional clothing.
Gifts
Packed with love
Gift wrapping services are also available.
Experience our service on site
Available for you in the following Strolz shops