Ski Boot Fitting
Competency for more than 100 years
What boot fitting is all about is ensuring skiing pleasure without pain and optimal power transmission to the ski. Fitting ski boots has been one of our core competencies at Strolz since 1921. Our centerpiece is the Strolz ski boot, which is a customized foamed boot. Of course, we also work with other ski boot brands and models. Our ski boot workshop is equipped with the latest technology. We look forward to your enquiries and wishes.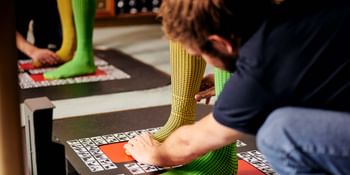 Strolz Benefits
The ski boot fitting at Strolz offers you these benefits
Many years of experience
Our team employs their experience and know-how on the implementation of your boot fitting.
Modern Technology
Our workshops are equipped with state-of-the-art technology such as 3D laser scanning, CNC milling...
Handicraft
Our craftsmen, who also master last construction, still regularly use this traditional technology for the foamed Strolz ski boot.
Full Service
We are always available to service your ski boots or handle repairs.
Strolz Skiboots
Tecnica x Strolz
The Tecnica x Strolz is our latest ski boot model and has been completely redesigned for the winter of 2022/23. We have assembled this ski boot using the best components of our partners Tecnica and Sidas - but the decisive factor is the on-site tuning by our experts. In combination with the latest technology, this fine tuning offers maximum functionality, control and precision, making it the perfect companion for a unique and safe sports experience on or off the slopes.
Discover Strolz Skiboots
Experience our service on site
Available for you in the following Strolz shops