Ski Depot
Perfect start for your skiing pleasure
Our ski depot at Skiservice Strolz is centrally located in downtown Lech, just a stone's throw from the main entrances to the slopes, offering space for over 900 pairs of skis and boots.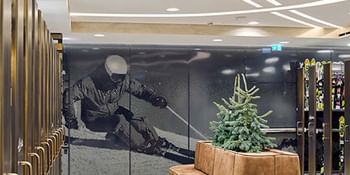 Serviced Depot
Our on-site depot team takes care of pickup and return of your skis and snowboards.
Secure Storage
Your equipment is safely stored in its designated place.
Dependable Drying
Especially your ski boots and snowboard boots are dried overnight and warmed up in the morning.
Maximum Efficiency
Our depot is furnished to a high standard and offers you a high level of efficiency with minimum wait.
Free for Rental Customers
All rentals are offered a free depot spot at the Skiservice Strolz in Lech on request.
Centrally Located
Our ski depot is centrally located, so you can avoid long distances and tedious lugging to the ski lift.
Experience our service on site
Available for you in the following Strolz shops