Ski and Snowboard Rental
Comprehensive Strolz service at every rental
Whether you decide to ski downhill, snowboard or ski cross country, you will find everything you need for your winter sports satisfaction. We offer perfectly maintained equipment in high-quality rental shops. With decades of experience and know-how, we have put together a select range of models for you. Specially designed for Arlberg conditions, choose between tried and tested classics, sporty models for the piste and skis for off-piste use. Simply and conveniently book the desired equipment online and pick it all up in one of our 3 Rent Shops without unnecessary delays.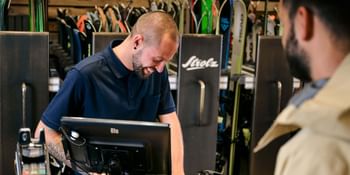 Strolz benefits
Strolz ski and snowboard rental service offers you the following advantages
The best equipment
We carry top brands in all rental categories. Our team is happy to help you find the perfect equipment for your riding ability and style.
Early check-in & late check-out
You may come get your rental equipment from 3 p.m. the day before and return it by 10 a.m. the following day at no additional cost.
Try and Buy
The proof of the pudding is in the eating. When you buy skis or snowboards from Strolz, you may test them for up to three days free of charge.
Unlimited returns
Snow conditions have changed? Exchange your equipment free of charge in all our Rent Shops.
Full service partners' network on the Arlberg
Returns or exchange of Strolz rental equipment is accepted at all shops of our partner businesses Sport Jug and Alber Sport.
Rental packages differ mainly in terms of product quality. In each rental package there are skis for all ability levels.
No, in each category we include skis and snowboards for every level, from beginners to pros.
We rent everything related to winter sports. As expected, we rent skis, ski boots, snowboards, boots, safety equipment, but also bobsleds, toboggans and baby joggers.
You can rent your winter equipment in the shops Skiservice Strolz and Strolz Filomena in Lech, as well as in Sporthaus Zürs.
You may pick up your rented equipment on the prior day starting at 3.00 p.m. at no additional cost.
Rentals can be returned on the last rental day during opening hours or on the following day by 10.00 a.m. without additional costs.
As our equipment is serviced after each rental, half-day rentals are unfortunately not offered.
Our rental skis and snowboards are sharpened and waxed in our service centre after each return.
You can exchange skis, snowboards or boots at any time within the booked category at no extra charge in all Rent Shops.
In case of theft, a report must be filed with the Lech police. The station is located next to the Pizzeria Olympia.
For some of our rental packages, brand-specific booking is possible.